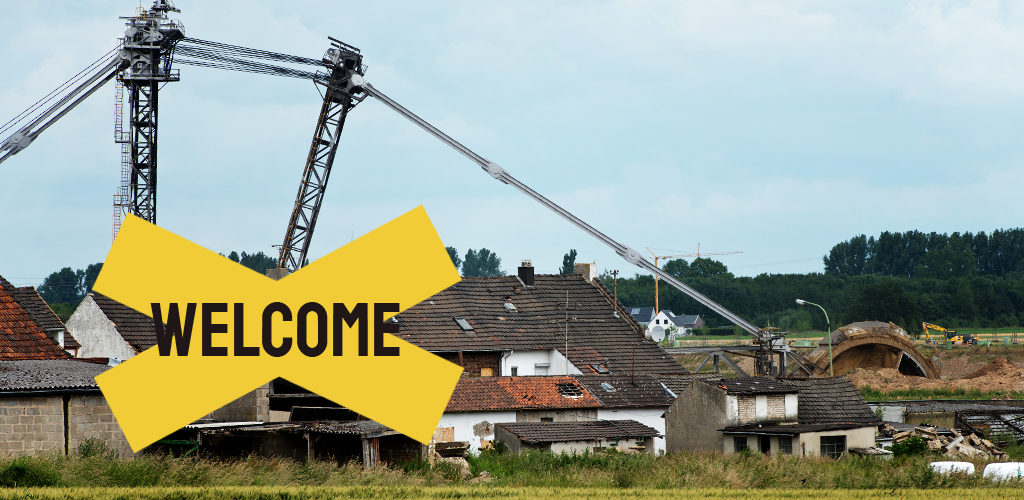 We're sorry to say that only this page is available in English, but we strive to give you as much information here as possible. If you have any questions, please don't hesitate to contact us!

What's the issue?
For people in more than a dozen villages in Germany, the future is at stake. Houses, churches, forests and fertile farmland to be consumed by open cast lignite (brown coal) mines. This is happening despite it being clear that renewable energy production is possible and a coal exit absolutely necessary to stay within the 1,5°C-limit. The villages are to be destroyed and 1.500 people to be displaced solely for the profits of the big energy corporations RWE, LEAG and MIBRAG, which run the open cast mines in the three german lignite mining regions.
What are we doing?
We're standing in the path of this injustice. We – those directly affected by the mining and forced resettlements, people active in the climate justice movement, solidary citizens – have joined forces, coming from different regions and backgrounds. Neither in the Rhineland, Lusatia nor the Leipzig region shall another village fall victim to lignite mining. We are united in solidarity to save the villages and landscapes in all three regions, maintain lively communities and make a just and self-governed transformation reality. This also means: The lignite has to be kept in the ground, to avert a climate catastrophe and to stay within 1,5°C of global warming.
What can you do?
Press review
Here are some selected international articles about the threatened villages:
19.01.2020 – Deutsche Welle: Hambach Forest: Germany's sluggish coal phaseout sparks anger
30.09.2019 – The Guardian: 'Human rights before mining rights': German villagers take on coal firm
10.08.2019 – The Guardian: Greta Thunberg takes climate fight to Germany's threatened Hambach Forest
24.03.2019 – MENAFN – Daily News Egypt: As Germany phases out coal, villages still forced to make way for mining
06.12.2018 – Washington Post: A dying industry is displacing entire communities

Contact:
Christopher Laumanns
presse@alle-doerfer-bleiben.de
+49 (0) 1577 3395845

We will stand in front of our villages and protect them.

We demand the immediate stop to all forced resettlements, all demolitions, all forest clearances and destructions of land and nature in the lignite mining regions.

We demand the quickest possible exit from coal mining and policies that guarantee staying within the Paris agreement's goal to limit global warming to 1,5°C – for climate justice in our regions and everywhere in the world.